ICT, Telecom and Brodcast Shows Calendar 2016-17
To stop receiving these mails unsubscribe | Report Spam | If you're having trouble viewing this email click here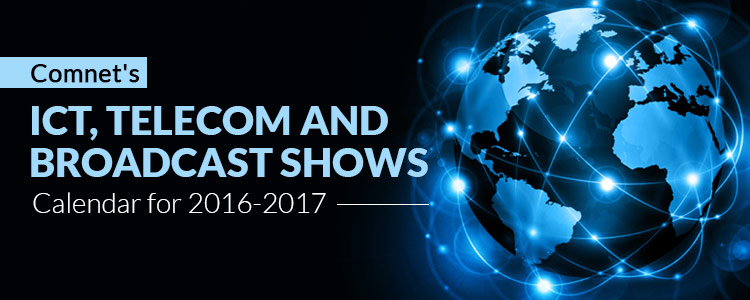 Dear Sir,
We are pleased to present Comnet's calendar for ICT, Telecom and Broadcast shows around the globe in 2016-17. All the shows mentioned below are world class event and are best in the region. These shows will assist you in achieving your company strategy for current year. Kindly let us know the shows you are interested in so that we can send you more details on it.
You may also logon to www.comnetexhibitions.com for further details.
We look forward to assist you further.
Kind regards,
Vivek Srivastava
Vivek Srivastava
Manager

Comnet Exhibitions Pvt. Ltd. (A division of Exhibitions India Group)
217-B, Okhla Industrial Estate, Phase III, New Delhi 110 020, India
Tel: +91 11 4279 5000 | Direct: +91 11 4279 5053
Email: viveks@eigroup.in | Web:www.comnetexhibitions.com
To stop receiving these mails unsubscribe | Report Spam
Note: For Travel and Hospitality in India and overseas, please contact:
Baleshwar Sejwal at Comnet Travels at +91 11 4279 5018 | Email: baleshwars@eigroup.in
For Booth Design, please contact:
Pallavi Bhargava at Comnet Design at +91 11 4279 5115 | Email: pallavib@eigroup.in