Be part of the Indian pavilion organized by ASSOCHAM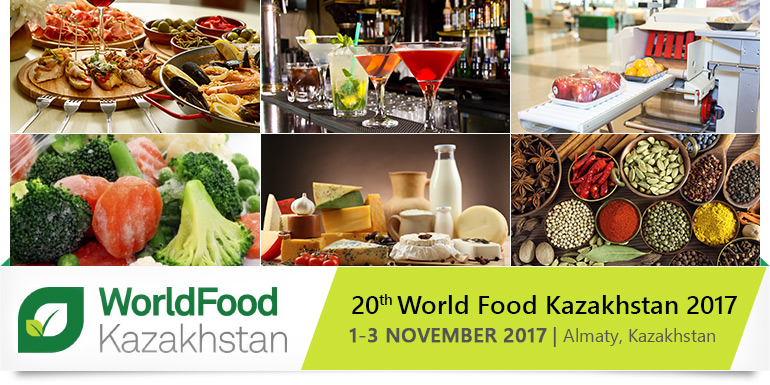 Dear Sir,
We are pleased to inform you that ASSOCHAM is forming a India Pavilion at 20th World Food Kazakhstan 2017, is being held from 01-03 Nov 2017 at Almaty, Kazakhstan. The show is organized by ITE Group PLC and is being promoted by Comnet Exhibitions Pvt Ltd in India.
World Food Kazakhstan is a wide-ranging exhibition, showcasing the very best products on Kazakhstan's food and drink market. The event has become a major meeting place for the industry, welcoming thousands of visitors from Kazakhstan and the wider Central Asian region. World Food Kazakhstan has proved an effective forum for promoting new products, discovering more about the local market and meeting professionals within the industry, including producers, distributors, wholesalers, retailers and restaurateurs.

POST SHOW REPORT

| | | |
| --- | --- | --- |
| Visitors | Exhibitors | Countries Represented |
| 5,339 | 456 | 36 |

• Food & Drink
• Agriculture
• Food Technology
• Halal Food

• Ingredients, Spices, Herbs
• Food Packaging
• Bakery
• Retail

For Stall Design
Get Your Stall Design by Comnet Design

For more details please Contact:-
Pallavi Bhargava
Tel: +91 11 4279 5115


[email protected]


www.comnetdesign.in
For Travel Bookings
Get one stop solution for all your travel needs by Comnet Travels
For more details please Contact:-
Baleshwar Sejwal
Tel: +91 11 4279 5018


[email protected]


www.comnettravels.com
Exhibiting Countries :
Austria, Azerbaijan, Argentina, Armenia, Belarus, Belgium, Bulgaria, Hungary, Germany, Greece, India, Iran, Italy, Spain, Kazakhstan, Kyrgyzstan, China, Latvia, Lithuania, the Netherlands, the United Arab Emirates, Pakistan, Poland, Portugal, Russia, Slovakia, the USA, Thailand, Turkey, Ukraine, Switzerland, Sri Lanka, the Czech Republic, France, South Korea, Japan) participated in the Exhibition
PARTICIPATION COST
ASSOCHAM is offering approx. 60% of subsidy on the shell scheme booth at World Food Kazakhstan 2017
Table Space of 4.5 Sqm will be at INR 52,200
And bigger booths will be in multiple of 4.5 sqm at the same rate
Approx. Travel Package Cost : Early bird offer valid till 20/08/2017.
INR 64,000/- per person on single occupancy.
INR 58,000/- per person on double occupancy.
Package includes:
• Accommodation on single room (Hotel Best Western 4* or similar) for 05 nights (with breakfast and Wi-Fi).
• Airport transfers
• Venue transfers
• Air ticket
• Visa
• Travel Insurance
• All taxes
Flights:-
Air Astana
Air Astana
30/ 10/2017
04/11/2017
Delhi
Almaty
Almaty
Delhi
1220
0750
1640
1110
*Please find the below documentation for Visa processing:-
• 2 Photo (colour photo with white background).
• Invitation letter.
• 2 business visiting cards.
• Covering letter
• Valid Passport with at least 6 months validity from the date of travel. The passport should also have a minimum of two blank visa pages.

Time taken: 10 – 15 working days.
Apart from the above package there would be an additional cost of INR 14000/- to arrange visa invitation letter, unique identity visa number and visa processing approval from ministry of foreign affairs – Kazakhstan. Please refer attached email.
**Package rates (flight/hotel) are dynamic therefore request you to confirm the dates ASAP.
***Visa decision (yes or no) is under embassy hand, we will help you to file the same.
****Normally visa takes minimum 10 to 15 days (but embassy can take more days).
*****GST will be charged extra.

We would be delighted to have you as an exhibitor at the show. Look forward to your confirmation,
Kind regards,
Anita Yadav
Anita Yadav
Manager

Comnet Exhibitions Pvt. Ltd. (A division of Exhibitions India Group)
217-B, Okhla Industrial Estate, Phase III, New Delhi 110 020, India
Tel: +91 11 4279 5000 | Direct: +91 11 4279 5114
Email:

[email protected]

| Web:www.comnetexhibitions.com